Vision, mission and values
To build on the Carey Group legacy that has been developed over the past 52 years and BDL's in the past 44 years, and ensure sustainable and long-term success, in 2021 we developed and launched a refreshed strategy for BDL which includes our vision and mission and a set of company values and behaviours.
As we embark on the delivery of our strategy, we have a stable platform to grow from, a wealth of experience and talent in our people and the structure and guidance in place to ensure that in another 50 years' time, we will be looking back with an enormous sense of pride at what we have achieved.
Our Vision - 'Eyes on the stars'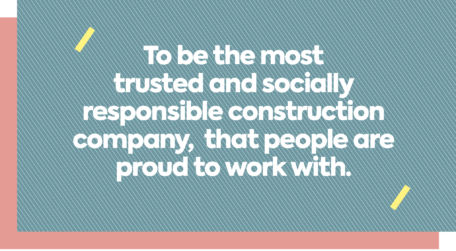 Our vision is our aspiration for the future. It is the 'why' we exist and what we want to become. Whilst it is not a shy or unassuming vision and will take hard work to get there, with our strategy in place and by using our passion and expertise to deliver exceptional construction services, we will get closer to achieving it every day. In line with our vision, it is imperative as we move forward that we also take a strong position regarding our social value. Whether it is through our people, our clients or our stakeholders, we want to support the communities we work in and leave a positive, lasting legacy. That's not a new phenomenon for us, we've been delivering in this space since 1977 and have more recently focused these activities through Careys Foundation. Setting a stake in the ground will allow us to build upon and realise our vision of being recognised as a truly socially responsible organisation.

Our mission - 'Feet on the ground'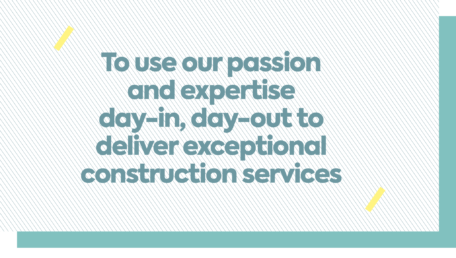 Our mission statement is the core of our offering and the 'what' we all contribute to, day-in, day-out. We are a construction company and people come to us for our knowledge, capability and because they have complex problems that need solving and want partners who will be engaged in helping them find that solution. Everything we do is in support of creating an environment for our teams to deliver exceptional construction services.

When we remind ourselves that where we sit today began with just three men and a van, we also remember that these things always seem impossible until they're done.
Our values
Too often, a company's values can simply be words on a wall that aren't lived day-to-day. Our values and behaviours were developed with the help of people from all corners of BDL and the wider Carey Group and as a result they reflect our three founders, the unique culture we are incredibly proud of and the people we are lucky enough to work alongside every day. They are our DNA and by articulating them and reinforcing them with the behaviours we do and don't want to see, we can make it clear that we want everyone who interacts with us to feel the care, humility, passion and authenticity that makes BDL so special.